Not everyone can afford a closet full of expensive designer finds. For those of us who want to be stylish, without necessarily having the economic status of Anna Dello Russo, or Olivia Palermo, I suggest keeping with the classics. While trendy clothing may be... well, trendy, it's likely that in a few months it will be outdated, or worn by everyone and their mothers. Then a new trend will arrive, and more money will be needed to be spent and the cycle is never ending. This is exactly why I stick with classic clothing. Now, some classics you should splurge in, but because they won't be outdated and will always be in style, they're smart investments. Think about it. Would you rather spend $50 in a trendy, but possibly crappy bag that you won't want to use in three months, or spend $300 in a great neutral leather one you'll use forever? AHA!
Here are a few items that every stylish woman should own:
Black Blazer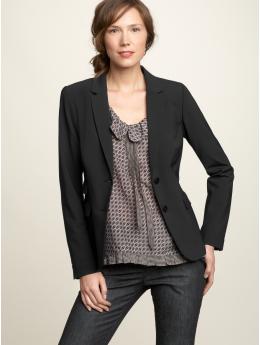 Great with jeans for a night out or a job interview.
Premium Jeans (skinny and boot-cut)
Premium Jeans seriously make all the difference. Please, please, I know the 10 dollar price tag is appealing, but Forever 21 jeans are NOT the way to go. I-N-V-E-S-T. Skinny jeans are here to stay, and while boot-cut never really lest, it's making a huge comeback.
White Button Down Shirt
When you feel like you have nothing to wear, just reach for a white oxford shirt, pull your hair up into a bun, and add a red lipstick. 'Nuff said.
Cardigan
Cute with floral dresses, white tank tops and jeans, pretty much everything.
Striped Tee
Metro Park Usa
I thought the nautical/french trend was gonna leave fast, but it seems like it's here to stay! And they look so adorable under blazers.
(faux) Diamond Stud Earrings
C'mon, these just look great and elegant.
Nude Pumps (or ballet flats)
Piperlime
J. Crew
Leather Bag
Coach
I really like Coach's selection of leather bags, but whichever brand you decide on, I suggest to keep the logos to a minimum. Don't splurge on the Coach with all the C's, or the LV with the... LV's all over. It just doesn't work for everyday, and they aren't as versatile as a simple camel tote would be.
Read
.
Little Black Dress (and/or
it's variation, the Little White Dress)
Black is the color to go to when you don't know what to wear, and white is just adorable!